Maximize ROI with Lead Retrieval App
Exhibitors can install Eventleaf Leads App on a phone or tablet. From there, simply scan attendee badges to capture the contact information needed for following up after the event.
Each Lead Retrieval purchase will cover a unique login to the EventLeaf Leads App for every "exhibitor registration" tied to the booth. Unique logins allow booth staff to split their notes and keep track of leads by staff member.
Not sure if your company has purchased Lead Retrieval for 2022, or have questions? Give us a call and we will be glad to help. (512) 358-1000.
Watch Video
Watch a short video highlighting various Lead Retrieval features.
Capture, Rate, and Export Leads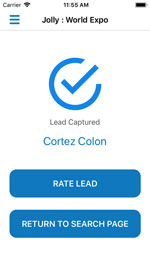 Rate the collected leads based on each client's interest to personalize the follow-up campaign. Export the leads as a CSV or Excel file and use them with your email program, CRM, and other marketing tools.